Description
AURIZON EAR DROPS FOR SALE
Aurizon Ear Drops for sale ;
Species: Dogs
Therapeutic indication: 
Pharmaceuticals: 
Antimicrobials: 
Topical preparations: 
Ear/eye/nose
Product: Aurizon ear drops, suspension
Product index: Aurizon
Presentation
Homogenous beige to yellow 
o
ily suspension. Each ml contains marbofloxacin 3mg, Clotrimazole 10mg and Dexamethasone (as acetate) 0.9mg as active substances.
Aurizon Ear Drops Uses
 Use of the product should be based on susceptibility testing.
The preparation contains three active ingredients: Dosage and administration
One drop of the preparation contains 71 microgram marbofloxacin, 237 microgram clotrimazole and 23.7 microgram dexamethasone acetate.
Contra-indications, warnings, etc
Withdrawal periods
Not applicable
Do not administer to dogs suffering from perforation of the tympanic membrane
.
Do not administer to dogs with known sensitivity to any of the ingredients
.
Do not administer to pregnant or lactating bitches
.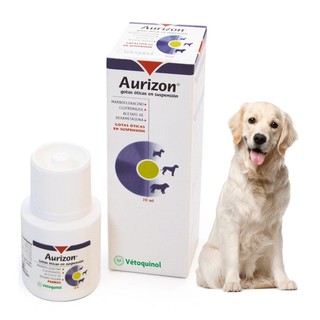 Operator warnings
Wash hands carefully after applying product. Avoid contact with eyes. If the product splashed the eye accidentally, rinse with copious amounts of water.
Persons with known hypersensitivity to compounds in the product should avoid any contact with the product.
Pharmaceutical precautions
Do not store above 30°C
After opening, use the product within 2 months. Any unused product or waste material should be disposed of in accordance with national requirements.
Packaging quantities
Boxes containing: 10ml bottle and cannula and 20ml bottle and 2 cannulae.