Description
PENSTREP 400 INJECTION FOR SALE
Penstrep 400 Injection for sale is a complex antibacterial drug, 1 ml of which contains procaine penicillin G 200,000 IU and dihydrostreptomycin sulfate 200 mg, as well as a solvent. It is a sterile white suspension for injection.
Penstrep-400 Pharmacological properties
Procaine penicillin G, which is part of Penstrep 400, belongs to the group of narrow-spectrum penicillins, has a bactericidal effect, mainly on gram-positive bacteria (Clostridium, Corynebacterium, Erysipelothrix, Listeria, Staphylococcus, Streptococcus). Growing cells stop dividing, enlarge, swell and disintegrate to form small particles.
The antibacterial effect is based on the binding of the streptomycin molecule to the ribosomes of the microbial cell, which disrupts the reading of information in the protein synthesis system and leads to the inclusion of erroneous amino acids in the growing polypeptide chain. Cumulation does not occur with normal renal excretory function. Unlike penicillin, streptomycin acts on microorganisms that are both in the reproduction stage and in the resting stage. Acquired bacterial resistance develops very slowly. The combination of penicillin with dihydrostreptomycin has a greater bacteriostatic and bactericidal effect on the pathogenic microflora than each substance alone.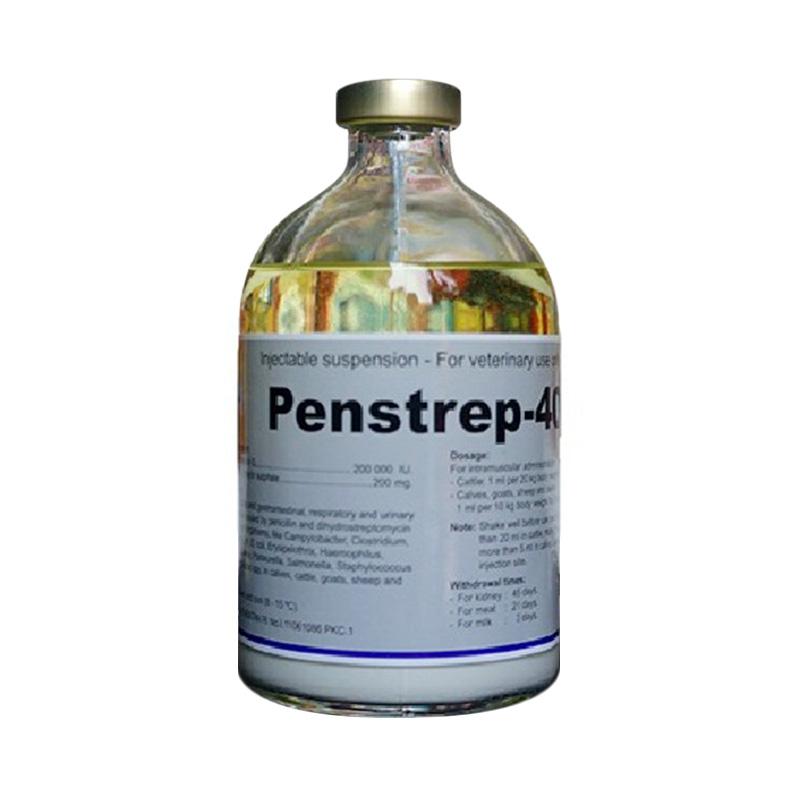 Penstrep-400 Indications
Prescribed to cattle, sheep, goats, pigs, dogs and cats for the treatment of infections of the gastrointestinal tract, respiratory and urinary tract.
Doses and method of administration
Penstrep 400 is administered only intramuscularly. Before use, the contents of the vial are thoroughly shaken until a homogeneous suspension is obtained.
Side effects
Subject to the indicated dosages, side effects do not appear. In case of overestimation of the recommended dose, in some cases, otoxicosis and nephrotoxicosis may occur.
Penstrep-400 Contraindications
Hypersensitivity to penicillin antibiotics and aminoglycoside antibiotics. Renal and cardiovascular failure.
Storage conditions
In a dry, dark place, out of reach of children, at a temperature of 8 to 15 ºС.
Shelf life is 2 years.